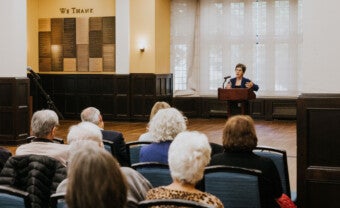 Public Health Seminar Series
The CPH Seminar series engages the University and Greater Philadelphia community in discussion of critical public health topics with local and national impacts. CPH seminar events are open to the community and we welcome anyone to join the conversation.
Seminar Series 2023-2024
This year, seminars will focus on a variety of current topics that are impacting health at all levels, places, and spaces. We hope to see you there!
Access Matters: A conversation with Tracie Hall
October 31st, 2023
Speaker: Tracie Hall
On October 31st we hosted an event in collaboration with Penn Libraries featuring Tracie Hall.
Tracie led some crucial dialogue addressing the far-reaching consequences of censorship and book bans on public health. Tracie D. Hall, is an esteemed librarian and former Executive Director of the American Library Association, emphasized the pivotal role libraries play in providing communities access to health information and social services.
Read the full recap