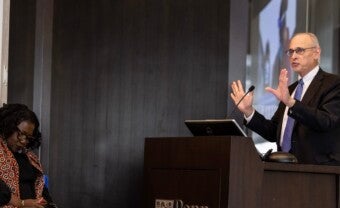 Practice and Research Seminar Series
On the first Wednesday of every month from 12pm-1pm, the Center for Public Health will hold monthly "Practice and Research" virtual seminars.
Join a community of public health leaders
Are you interested in presenting at a Practice and Research Seminar? Or know a public health leader you would like to nominate to speak?
Reach out to us! Please send us a message by emailing empat@pennmedicine.upenn.edu.
What are the Center for Public Health Practice and Research Seminars?
Center for Public Health Senior Fellows and other University leaders will present on timely and critical public health topics to the larger Center for Public Health network, including community partners and key stakeholders. The seminar format will include a brief presentation from a featured speaker, followed by a Q&A forum. Participants will discuss current public health challenges, new developments in the field, and best practices in practice and research.
The monthly "P and R" seminar is designed to serve as a dedicated space to bring together interdisciplinary public health senior leaders across the University, and ultimately advance collaboration and innovation in public health. We're very excited about continuing to grow a virtual community of public health leaders at Penn.
Upcoming P&R Speaker Line Up
Date
Speaker
Topic

Date

October 4th, 2023

Speaker

Amy Hillier, PhD, MSW

Topic

Gender-affirming care for kids

Date

November 1st, 2023

Speaker

Brianna Parsons, VMD, MSEd

Topic

Livestock in Global and Planetary Health

Date

December 6, 2023

Speaker

Akira Drake Rodriguez, MPA, PhD

Topic

Safe and healthy school facilities in Philadelphia

Date

January 10th, 2024

Speaker

Seul Ki Choi, PhD, MPH

Topic

Digital health interventions to promote LGBTQ+ health equity

Date

February 7th, 2024

Speaker

Desmond Patton, PhD, MSW

Topic

TBD