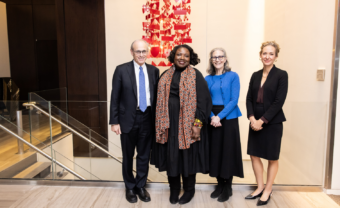 Access Matters: A conversation with Tracie Hall on the Public Health Impacts of Book Censorship
Event Recap
On October 31, Penn Center for Public Health partnered with Penn Libraries for a crucial dialogue led by featured speaker Tracie Hall addressing the far-reaching consequences of censorship and book bans on public health.
Event Highlights:
Tracie D. Hall, an esteemed leader and former Executive Director of the American Library Association, led the discussion, emphasizing the pivotal role libraries play in providing communities access to health information and social services. For a full recording of the talk please visit here.
Internet Access as a Public Health Indicator:
Tracie Hill highlighted that only half of the world's population, including the United States, currently utilizes the internet. In the context of the ongoing COVID-19 pandemic, where essential gatherings have shifted online, she stressed the necessity of considering access to broadband internet service as a crucial public health indicator. The American Medical Informatics Association supports this perspective, noting the growing interdependency between internet access and individual health maintenance.
Digital Racial Gap:
A recent Deutsche Bank study revealed a widening digital racial gap. The report suggested that without addressing this gap, a significant portion of Black and Hispanic individuals could be underprepared for the majority of jobs by 2045. Structural and infrastructural inequities were identified as significant contributors, with Black and Hispanic populations lagging behind in broadband access, creating a digital divide that may result in severe unemployment disparities.
Tracie D. Hall
Former Executive Director of the American Library Association
Read more about our speaker
Center for Public Health Seminar Speaker
Tech Connectivity Disparities:
The study highlighted a stark contrast in technology connectivity between racial groups. Black and Hispanic people were reported to be a decade behind White people in terms of broadband access, and Black individuals faced nearly four times the connectivity challenges. The COVID-19 lockdown further emphasized these disparities, with minorities having less access to work-from-home opportunities, potentially jeopardizing their health.
Impact on Daily Lives:
The presentation emphasized the critical link between poverty and information/network poverty. Poor social networks were identified as obstacles to breaking the cycle of poverty. Access to information, such as job opportunities, affordable childcare, or free resources, was portrayed as a significant challenge for those trapped in poverty.
Libraries as Information Networks:
Tracie Hall underscored that libraries are integral components of individuals' information networks, serving as vital resources for those struggling with poverty. The economic cycle of poverty, where individuals lack resources to escape poverty, was discussed in the context of information access, education, and social connections.
This event shed light on the multifaceted impact of censorship and information access on public health, underscoring the vital role of libraries in breaking the cycle of poverty and promoting equitable access to information.
Stay tuned for the next Center for Public Health seminar!